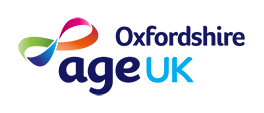 Overview
Age UK Oxfordshire provides a range of support services for older people and their carers throughout the county. This includes information and advice on topics such as benefits, community care, powers of attorney, wills, care homes and rights; and community-based services such as home support, befriending, memory clinics, mental health care services, generation games (physical activities), bereavement support groups and help for carers through Carers Oxfordshire. They also provide a directory of services for older people.
How to Access this Service
By contacting their helpline with the details below.
When/Where?
The Information and Advice line is open 8.00am – 7.00pm daily including weekends and bank holidays, via support from Age UK's national helpline. Local and specialist advice is available from 10.00am – 4.00pm, Monday – Friday.
Organisation:
Managed by Age UK
Age UK Oxfordshire
9 Napier Court
Barton Lane
Abingdon
Oxfordshire
OX14 3YT
UK
Who is it for?
Age range: Depends on the service (generally 50+), although some services will be 18+
Gender: All