Benefits for Better Mental Health (BBMH)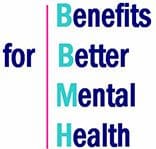 Overview
Benefits for Better Mental Health (BBMH), work alongside the Information Line and provide advice on benefit entitlement and help to gain and maintain the support you need. The service is open to anyone living in Oxfordshire who is claiming benefits (or wants to find out about their entitlement) because of a mental health problem.
How to Access this Service
By contacting the number or email address below.
When/Where?
Our BBMH team are able to help with benefit checks, claims and appeals.
In order to speak with a member of the BBMH team, you will need to contact the Information Service who will arrange a call back. The line is open from Monday-Thursday 09:30-16:30 and Friday 09:30-16:00.
If you want general advice too, they will be able to support whether it is with their team or signposting you to another local service.
Organisation:
Managed by the Oxfordshire Mind Information Service
Who is it for?
Anyone looking for benefit support, whether this is help with an existing benefit or they feel they can claim a new one. This is down to a mental health problem.
Giving advice to the person themselves or friend/family members.