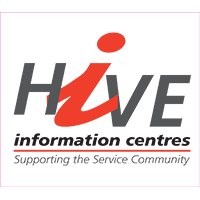 Overview
An extensive range of information is available, focusing on relocation information, local area information, education, accommodation, employment and training opportunities, childcare and travel.
HIVE Information Support Officers (HISOs) research answers to enquiries and have excellent links with Service and civilian agencies. The network of HIVE's across the UK and overseas provides a valuable point of contact for serving personnel and families during assignment relocation's. HIVE staff work closely with the unit welfare staff at times of deployment and provide a communication pack detailing how families can keep in touch during these times.
In addition to the information provision role, HISOs are able to confidentially refer should there be a need for personal help or support and will feedback to the chain of command concerns and issues affecting the Service community.
When/Where?
Organisation:
Bicester Outreach HIVE
15 AEC
Bicester Garrison
Ambrosden
OX25 2LD
UK
https://snapchat.com/add/britisharmyhq