Free Legal Advice Group for Domestic Violence (FLAG DV)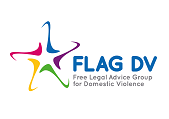 Overview
FLAG DV are a free legal advice group for victims of domestic violence.
They offer free family law legal advice appointments to enable people who have experienced domestic abuse to make informed decisions that empowers them to safely leave the abuse behind.
As well as providing legal advice appointments, they also act as a bridge of support by providing a clear pathway into other support organisations. This ensures a more holistic network is established to enable a better outcome for clients.
How to Access this Service
Referrals into the service can be made via the self-referral form, which is found on their website and linked below, or via the helpline, which is open Monday to Friday between 11:00am and 1:00pm.
Other support organisations can make third party referrals on behalf of a client, with the client's consent.
General enquiries can be made to hello@flagdv.org.uk
When/Where?
Advice clinics are run by fully qualified, volunteer lawyers who specialise in family law. They provide these clinics as a free service to clients.
Appointments last 30 minutes & are mainly telephone appointments. FLAG DV are an accessible service & can arrange video calls or face to face appointments when required.
Organisation:
Free Legal Advice Group for Domestic Violence (Flag DV)
Who is it for?
The service is available to anyone aged 18 years or over who has or is currently experiencing domestic abuse.