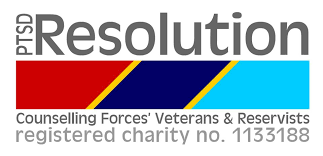 Overview
PTSD Resolution provides help for veterans, reservists, and their families struggling to reintegrate into a normal work and family life because of combat related stress and trauma during service in the armed forces.
How to Access this Service
Please call but if the line is busy or outside the hours of 0900-1700hrs, please leave a brief message with your number or email us, and it will be replied to as soon as possible that day or early the next.
When/Where?
PTSD Resolution offer local, free and fast (typically first session is within two weeks) trauma training/counselling to UK armed forces' Veterans, Reservists and families (including children) to relieve mental health problems resulting from military service, to ease reintegration into a normal work and family life.
There is no requirement to retell the trauma that created the PTSD. They have 200 counsellors across the UK.
The help they provide is private, confidential, local, and one-to-one. No referral is needed. Counselling is brief and effective – an average of five one-hour sessions held locally near you.
Organisation:
PTSD Resolution
c/o Chantry House
22 Upperton Road
Eastbourne
East Sussex
BN21 1BF
GB
Who is it for?
Age range: 5 – 105
Gender: MALE/FEMALE/OTHER