Cottsway Housing Association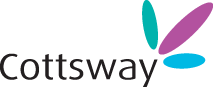 Overview
Cottsway is the largest housing association and provider of social housing within West Oxfordshire. They are a not-for-profit housing association and their income comes entirely from rents. Cottsway became a charitable industrial and provident society in 2009. They are committed to doing more to help people in housing need.
How to Access this Service
By using the contact details below.
Alternatively, click for their: contact form
When/Where?
Cottsway Housing Association Ltd was formed in 2001 to receive the transfer of West Oxfordshire District Council's housing stock.
Support includes hoarding, community fund, tablet loan scheme and more. 
Organisation:
Cottsway Housing Association
Cottsway House
Heynes Place
Avenue Two
Witney
Oxfordshire
OX28 4YG
UK
Who is it for?
Anyone in the Oxfordshire area.