Go For It (Respite and Social Care) Ltd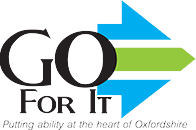 Overview
Go For It (GFI) facilitate social opportunities and personal development to young people aged 16 years and over with Learning Disabilities, Autism and Aspergers in Oxfordshire. GFI are providers of fun, educational-quality support within your chosen environment and aim to recognise and develop every member's potential. Working with their service users, parent/carers and professionals, they encourage them towards person centered challenges that are within their reach.
How to Access this Service
When/Where?
Services include:
– Personalised Day Provision (PDP)
– Educational Support (School, College, University)
– Employment Support and Training
– GFI L.O.V.E. Farm (Allotment Project)
– Transition
– Drop-in Service
– Saturday Activity Program
– Day/Weekend Trips and Holidays
– Holiday and Half-Term Activities
– Life Coaching – Push Your Limits UK Coaching
Organisation:
Go For It (Respite and Social Care) Ltd
Regal Community Centre,
Ridgefield Road
Cowley
Oxford
OX4 3BY
UK
Who is it for?
At least 16 and some form of learning difficulty