South Oxford Adventure Playground (SOAP)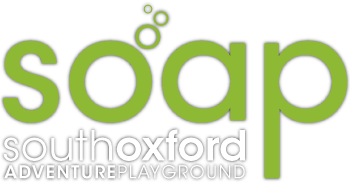 Overview
The South Oxford Adventure Playground (SOAP) is a charity run by volunteers and play workers. It is free and open to everyone. SOAP is a place where children can play freely, meet new friends and have fun in a natural and physically challenging environment. It offers an indoor and outdoor space where children can express themselves creatively and test themselves physically. There is not a screen in sight! The outside space has a wooden fort, tower to climb, zip wire, football pitch, wobbly bridge, tyre and rope swings, slides, den making area, fire pit, and trees to climb. Come along and discover the fun of SOAP!
SOAP aims to provide inclusive, exciting and adventurous play for children aged 7 and over, within a supervised playground. All children are welcome. Those under 7 must be accompanied by an adult. Play workers are onsite after school and through the holidays to support and encourage children in their play.
How to Access this Service
Download a registration form.
When/Where?
Children aged 7 years and over are welcome at SOAP without a parent/carer, when playworkers are on site. Please note that SOAP is an open access playground and children are free to enter and go as they choose. SOAP signs children in when they arrive and signs them out when they leave. SOAP cannot be responsible for children if they decide to leave the playground.
At SOAP children can decide for themselves what they do (within reasonable boundaries) and control their own play. All children must be registered with SOAP before they can use the playground.All children 7-15 years old who wish to use the playground without their parent/carer – with or without disabilities – need a completed and up-to-date registration form signed by a parent/guardian. Registration is free.
Organisation:
South Oxford Adventure Playground (SOAP)